Valentine's Day is Feb 14th
ORDER online at least ONE DOZEN RED ROSES from our Valentine's Day page six(6) days before Valentine's Day and you will receive a FREE box of millioniare(if available) chocolates - for delivery in our Metro area. Roses, chocolates, and bears for delivery are available year-round.


We will deliver to a business/organization's address thru the week and Saturday instead of a residence, let us know early. All delivery orders must have cell phone numbers. We will do red rose designs only. Some items will sell early, especially the super large box of candy. We will have millionaire candy.

***OUR ONLINE DESIGNS ARE SMARTPHONE AND TABLET-READY***
Valentine is in the air at A Balloon Basket and Gift Florist Downtown in Jackson, MS. Let A Balloon Basket and Gift Florist Downtown help you this Valentine's Day with some of our truly unique florals. We have everything you need to make your Valentine smile - beautiful flower arrangements.
A Mixed stem arrangement is $70.00 - includes three red roses.
Remember, your loved one wants her Valentine sent to her job, even if you are going out later-we have you covered large or small. You can say, I just couldn't wait until Valentine Day!!
Let A Balloon Basket and Gift Florist Downtown in Jackson, MS , help you with all your Valentine's Day flowers. Don't forget moms, sisters, friends and daughters,etc.- they need a Valentine flower also - we have just the arrangement. Sending Valentine Day flowers is a wonderful way to celebrate your love.
A Balloon Basket and Gift Florist Downtown has been helping cupid deliver arrangements for many years. You may select from our beautiful best selling traditional long stem red roses in a vase. There's no better way to say 'I love you' on this holiday than with roses delivered from A Balloon Basket and Gift Florist in Jackson, MS. We carry women and men cologne.
Please try to order six(6) days before the 14th. We will still accept orders on the 14th but cannot guarantee delivery by 3:00 p.m.CST. Cut off will be early. LET US KNOW EARLY IN THE WEEK IF WE CAN DELIVER BEFORE THE 14th. Deliveries will be to businesses/organizations/hospitals, etc. We will deliver to a business in the evening but you are asked to ordered by the Saturday before the 14th.
Some items might sell-out fast. Let us know if we can deliver your Valentine starting February 9th.
Our designs will be our Valentine arrangements listed here and on our Valentine's page for Valentine delivery.
WE NEED THE FOLLOWING DELIVERY INFORMATION-person's name(no nickname), cell#, complete address, name of business, building name, floor, Suite#, Building number or letter and your cell#, zip code, etc. We will call the person to determine if at address, if we do not receive a call-back before delivery cut off, we will take the next day or will leave.

Hospital deliveries - MUST GIVE hospital name, building name(University Medical Center - School of Nursing Building), department, floor, cell number, station where driver can leave for signature if needed, and if work late hours. Let us know if employee or patient. NO TIME WILL BE SET TO MAKE DELIVERIES. WE WILL DELIVER ON DATE GIVEN BUT NOT A SPECIFIC TIME AND IF RECIPIENT IS NOT AVAILABLE DELIVER WILL BE THE NEXT DAY. WE WILL NOT DELIVER WITHOUT A CELL NUMBER THAT DOES NOT HAVE MESSAGE CAPABILITIES.

DELIVERIES TO SCHOOLS MUST BE ORDERED THREE DAYS PRIOR TO FEBRUARY 14TH. CHECK SCHOOL POLICY IF NOT EMPLOYEE. No college deliver on the 14th. Can deliver the 11th and 12th if ordered by the 9th.

On all orders let us know if female, male.
Remember roses cut shorter in a design last longer.
Out-of-town flowers for our customers must be ordered by the six(6) days prior to delivery date due to weather and cut-offs in that city.
************************************************************************
VALENTINE - Send flowers early - ORDER NOW - Make your loved one Feel extra SPECIAL!!
****
SPECIALS
**** (
good for six(6) days prior to Valentine Day
ONLY.
ORDER AT LEAST ONE DOZEN OF RED ROSES BY THE 9TH of VALENTINE AND RECEIVE A FREE BOX OF millionaire CANDY or bear.
** VALENTINE BUNDLES FOR DELIVERY **
1 Super Love dozen of Red roses in a red vase, box of extra large millionaire chocolate, balloon & bear - $155.
The above includes, besides greenery, beautiful fresh filler flowers to make the above our top premium design.
3 roses with bear, balloon, and candy $65.
Roses designed in a vase with premium frills
One Red rose $15*** Three Red roses $30***Six red roses $59***all designed in a vase with other flowers, fillers/greens. One rose with bear attached to vase $35; three roses with bear attached to vase $50. Standard red dozen $80.
Extra Large bears $39. We also have different size Bears, and candy available.
Fresh rose petals $6.00, mark your love steps.
The gift basket for Valentine Week will be a spa/relaxation with cologne and candles- $65. The only other gift basket delivered Valentine Week is our Junk Food Basket that must be ordered six(6) days prioe to delivery - $50.
These designs, please call 601-969-6482.

VALENTINE HOURS will change - check back. Delivery Service only.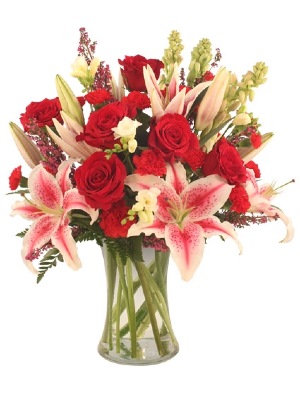 Glamorous
Bouquet
Be the first to say "I Love You." Surprise your sweetheart by sending her a Glamorous Bouquet of Stargazer lilies, red roses, red mini carnations, white freesia and white tuberoses. Order flowers online day or night or call A BALLOON BASKET AND GIFT FLORIST DOWNTOWN to send flowers to the one you love the most.
$110.00, $120.00, $135.00
Shown at $120.00
More Info